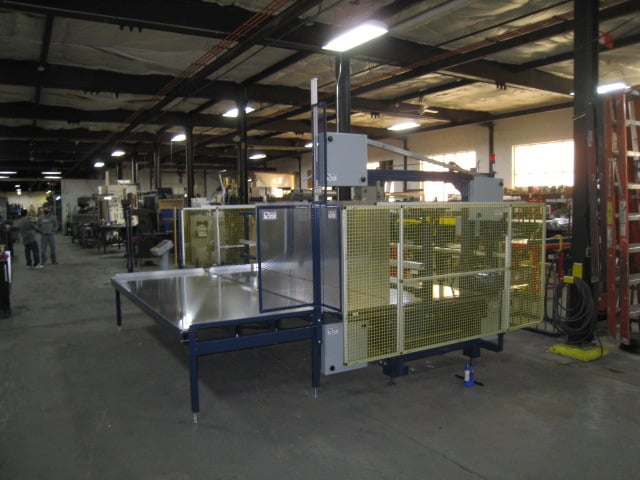 Ttarp Vertical Band Saw for Foam
Band Saw Production Model
Automated Band Saw for Cutting Low-to-Medium Density Materials Including Foam Rubber
Ttarp vertical band saws can be operated manually or fully automatic. They are ideal for cutting foam buns.
Ttarp band saws are available with various options and accessories to provide you with fabricating equipment designed to meet your needs. Contact us if you have a specific challenge or application requirements.
System Features:
Fully automatic or semi-automatic head and fence operation with adjustable fence travel
Stationary table with traveling head to save floor space
Variable speed with PLC-controlled servo motor for accurate material indexing (0.001" increments)
Variable cutting length controlled by adjustable limit switches
Variable cutting speed
Cuts in one or two directions with separate speed controls for each direction
For single-cut mode, the saw cuts and returns through the cut before the fence moves
For double-cut mode, the saw cuts in both directions, with the fence moving after each cut
Moveable control console with language-selectable touchscreen in inch or millimeter readout
Adjustable VFD blade speed option
Easy blade changes
Friction blade sharpener
Saw stops automatically if the blade accidentally breaks
Manufactured in the U.S.A.
Download Specification Sheet:
"The Ttarp saw is a workhorse. It is easy to switch out blades."
Maintenance Manager
Technical Converter | Minnesota
"On behalf of our team, thank you for the quick turnaround on the repaired parts – installed this morning and working great."
Facilities & Maintenance Manager
Rubber Converter | North Carolina